Most people remember the Teenage Mutant Ninja Turtles fondly from their childhoods. Fun comics or awesome Saturday morning cartoons that you'd sit and watch for hours and hours. But how many of us knew that Japan decided to do something strange and exciting with the Ninja Turtle title in 1996 called, Teenage Mutant Ninja Turtles: Superman Legend. The title alone will make your head spin. The Turtles Donatello, Raphael, Leonardo, and Michaelangelo, along with the Human reporter April, and their Rat teacher Splinter, these turtles are in for some adventure!
Positive Points
Seeing the Turtles Japanified
Negative Points
Seeing the Turtles Japanified
It's only in Japanese (It should have gotten a dub lol)
The show is ugly in general
The action and comedy aspect of the show falls flat
Nothing really makes sense unless you are already familiar with the characters as no introductions are done at all
Why chii thinks you should watch it
You probably shouldn't actually watch this. It's rather painful even if you enjoy watching anything and everything like me. Remember those weird Mario OVA's that were made? This is a painful reminder that an addition of a Japanese OVA sometimes will not bode well for the franchise. At least the Mario ones made sense that they were made since Mario is Japanese and all. Anyway... Stuff just seems to randomly happen in the hour it takes to watch both episodes. The 2 episodes are also stand alone, which I really didn't understand but the second one was apparently made just for toy advertisement. This oddly explains why there was a tiny bit more action in the second one. We also get to see the toy advertisement at the end of episode 2 as well. Weird to say the least. It was fun seeing the Turtles and April getting into adventures again even if they were very weird ones. This OVA easily gets a 2/10.
Further reactions to this OVA:
GD Star Rating
loading...
There are plenty of people out there that love to make weird and interesting series from time to time. Catman is just one of these kind of titles. This web flash animation was Ryosuke Aoike's first work and ended up winning him a GRAFIKA design festival prize for Best Digital Animation. We follow Catman in his human like world as he goes through his daily routines and has some awesome random adventures.
Positive Points
It's short so it'll take under an hour to watch all 3 series
No talking, just subtitles
Got some pretty kick ass songs played during the show
Fun just to sit back and watch
Negative Points
The animation might be a turn off
It doesn't really go anywhere
Some might not overly enjoy Ska Punk music which is played all through the animation
Might be too random
Why chii thinks you should watch it
If you are anything like me and enjoy shorts of animation, this series is a must watch. I also really like the fact that it was made in Montreal, Canada and that the music was even done by a local Montreal Ska Punk band, The Planet Smashers. All 3 web flash animations get a solid 7/10 from me. Watching Catman go about on his daily routines really makes you think about just how simple and complicated living ones life can be.
Further reactions to this web animation:
GD Star Rating
loading...
So since I did a favourite anime of all time list I decided to do a list of anime that just didn't do it for me. Like the favourites, making this list has some requirements. It had to have pissed me off a lot and be bad according to my tastes. I generally let a lot of bad things slide by without much thought so these anime ended up leaving a nasty enough impression on me that just made me not able to forget. I have absolutely NO desire to re-watch any of these shows and I generally can't stand the attention they get from most anime fans. Some are failed potential that betrayed my feelings so much that I just can't let it go and some are sequels that completely let me down.
If one of your favourite anime happens to be on this list do not bother leaving flame comments. It will be deleted. Take note that everyone in this world is completely different and so their tastes are different as well. Some people are more compatible than others. If one anime happens to be a masterpiece for someone could be another's poison. These happen to be my poisons! Like my Favourites List I'll update this one when something decides to be a terrible anime that just has to make the list.
1. Clannad (Especially Clannad After Story)
2. Full Moon wo Sagashite
3. Beck
4. Aria the Animation (Only watched Season 1 of the franchise)
5. Green Green (Dropped at episode 3)
6. Yumeria
7. Yokohama Kaidashi Kikou / Quiet Country Cafe
8. Kanon 2002 (I will not touch the 2006 version with a 9000 foot poll)
9. Adventures of Mini-Goddess (Tried watching 3 different times and could only get through 3 episodes each time)
10. Mermaid Melody Pichi Pichi Pitch (Only watched Season 1 of the franchise)
11. Real Drive
12. Akane-Iro ni Somaru Saka
13. Akikan!
14. Aoi Hana
15. Kiss x sis (Dropped the series at episode 3 somehow watched all of the ova)
16. Munto / Sora wo Miageru Shoujo no Hitomi ni Utsuru Sekai
17. Yosuga no Sora
18. Chu-Bra!!
19. Kanokon
20. Boku wa Imouto ni Koi wo Suru
21. To Heart
22. Loveless
23. Amagami SS
24. Chaos;Head
25. Crystal Triangle
26. Smash Hit
27. Love Love?
28. Cosprayers
29. Bus Gamer
30. Eiken
31. Roots Search
32. Kampfer
33. Naruto
34. Mobile Suit Gundam ZZ
35. Futakoi
36. DearS
37. Kimi ga Nozomu Eien ~Next Season~
38. Melancholy of Haruhi Suzumiya
39. Hidamari Sketch (Finally learned to stop watching when they came out with a season 3)
40. Ichigo 100%
41. Shugo Chara!
42. Suzuka
43. Needless
44. Beet the Vandel Buster
45. Twilight Q
46. Kiddy Girl-and
47. Graduation
48. King of Bandit Jing
49. Bobobo-bo Bo-bobo
50. Real Bout High School
51. K-On!
52. Kurogane no Linebarrels
53. Uragiri wa Boku no Namae o Shitteiru / Betrayal Knows My Name
54. Seitokai no Ichizon
55. Canvas 2 ~Niji Iro no Sketch~
56. Slap Up Party: Arad Senki
57. Sasameki Koto
58. Heroman
59. Kaichou wa Maid-sama!
60. Hanaukyo Maid Team
61. Mouse
62. Blue Flames
63. Idol Project
64. Sister Princess
65. Kannagi
66. Nineteen 19
67. One
68. UFO Ultramaiden Valkyrie
69. Panzer Dragoon
70. Violence Jack
71. Bagi, the Monster of Mighty Nature
72. Lime-iro Senkitan
73. Star of Cottonland
74. White Album
75. Final Approach
76. Kodomo no Omocha
77. Lovely Idol
78. Itsudatte My Santa!
79. California Crisis: Gun Salvo
80. Sora o Kakeru Shoujo / Girl Who Leapt Through Space
81. Only Yesterday
82. Magic Knight Rayearth
83. Tayutama -Kiss on my Deity-
84. Angel Beats!
85. MM!
86. Macross 7: The Galaxy is Calling Me
87. Ookami Kakushi
88. Pretty Cure Splash Star
89. Otaku no Video
90. Kokoro Toshokan
91. Wedding Peach
92. Manabi Straight!
93. Witchblade
94. Witch Hunter Robin
95. Mobile Suit Gundam X
96. Hyper Police
97. Elfen Lied
98. Death Note
99. Martian Successor Nadesico
100. Onii-chan no Koto Nanka Zenzen Suki Janain Dakara ne!! / I Don't Like You at All, Big Brother! (We'll see if I can actually finish this one and if so it's going much higher on the list for sure)
GD Star Rating
loading...
Favourites are a great thing. What makes these shows mine is that I think about them very often when I'm thinking about anime and wish to watch them more than once. Some of them I've already watched 5+ times. To be a favourite they also must be entertaining as a whole series. So if they have season 2's or more, I should have loved them just as much as their season one. Everything on the list below applies! I've been meaning to make this kind of list for many years now and I've finally sat down and mulled through all my anime titles and picked these 100 to be my absolute favourites.
Like digitalboy I'll be updating this list regularly from now on but not once a month. I will only update when I feel an anime has stood up to my standards to break into this 100 anime list. I will keep a list at the bottom of this page which of which anime has moved in and which it has kicked out. I doubt that it'll happen very often but time will tell. Check out my Does Not Want List for a taste of my dislikes.
1. Legend of the Galactic Heroes
2. Fullmetal Alchemist
3. Full Metal Panic!
4. Hikaru no Go
5. Macross Plus
6. Romance of the Three Kingdoms
7. Jyu Oh Sei
8. Baccano!
9. Ristorante Paradiso
10. Infinite Ryvius
11. Mushishi
12. Princess Mononoke
13. Serial Experiments Lain
14. Ninja Scroll
15. Berserk
16. Super Dimensional Fortress Macross
17. Mobile Suit Gundam 0083: Stardust Memory
18. Strawberry Marshmallow
19. Hi no Tori
20. Nasu: Summer in Andalusia
21. Gintama
22. Neon Genesis Evangelion
23. Koi Kaze
24. Oseam
25. Rose of Versailles
26. You're Under Arrest!
27. Durarara!!
28. Kare Kano
29. Kita e ~Diamond Dust Drops~
30. Twelve Kingdoms
31. Kemono no Souja Erin
32. Cowboy Bebop
33. Crest of the Stars / Banner of the Stars
34. Mobile Suit Gundam 00
35. Himitsu: The Revelation
36. Higurashi no Naku Koro ni / Umineko no Naku Koro ni
37. 3 x 3 Eyes
38. Whisper of the Heart
39. Honey and Clover
40. Now and Then, Here and There
41. Katanagatari
42. Kurenai
43. s-CRY-ed
44. D.Gray-man
45. Hunter X Hunter
46. Yakitate!! Japan
47. Detroit Metal City
48. Battle Angel Alita
49. Gankutsuou: The Count of Monte Cristo
50. Last Exile
51. Turn A Gundam
52. Guin Saga
53. Blue Submarine No. 6
54. Haibane Renmei
55. Astro Fighter Sunred AKA Tentai Senshi Sunred
56. One Piece
57. Detective Conan
58. Kara no Kyoukai - The Garden of Sinners
59. Bokurano
60. Claymore
61. House of Five Leaves AKA Sarai-ya Goyou
62. Toki wo Kakeru Shoujo
63. Chobits
64. Vandread
65. Hotori: Tada Saiwai o Koinegau
66. Tytania
67. Heroic Age
68. Dirty Pair
69. Millennium Actress
70. Neko Rahmen
71. Kuruneko
72. Kuragehime
73. Puni Puni Poemy
74. Excel Saga
75. Arakawa Under the Bridge
76. Giant Robo
77. Dominion Tank Police
78. Canaan
79. Antique Bakery
80. Tokyo Godfathers
81. Iria: Zeiram The Animation
82. Nodame Cantabile
83. Nausicaa Of The Valley Of The Wind
84. Grave of the Fireflies
85. Trigun
86. Alien Nine
87. Gunbuster
88. Texhnolyze
89. Rurouni Kenshin
90. Patlabor: The Mobile Police
91. Junjou Romantica
92. Ryofuko-chan
93. Gravitation
94. Gungrave
95. Sora no Otoshimono
96. Video Girl AI
97. Simoun
98. Shangri-La
99. .hack//SIGN
100. X: The Movie
GD Star Rating
loading...
I'll keep this short and sweet. After all if I really wanted to talk a lot about these shows I'd give them each their own posts 😛
* means I'll be looking forward to these series each week.
* Beelzebub shall be interesting to see where it goes. It tries a little too hard to be funny for my tastes but that's what shounen is all about. I really hope that demon baby gets pants at some point. For some reason seeing that little boys dong so often creeps me out. I do look forward to the fights that this show shall be bringing.
Dragon Crisis will be the second worst episode that I've watched this winter behind the Brother love show. I love dragons and all but I don't generally want them in loli form. I like them as REAL dragons. I feel like someone took a look at Niche from Letter Bee and was like I need to make her better somehow... Oh hey lets make her a dragon and put her into a box! YEAH that'll work!!! -.-
Dream Eater Merry AKA Yumekui Merry I didn't expect this show to interest me in the slightest honestly. It's giving off a Soul Eater vibe that I like though.
* Fractale is a delightful Yokohama Kaidashi Kikou with a plot. We visit a futuristic world that relies a lot on computers to make people happy. We weren't given much to chew on plot wise yet but it'll come in the next episode I'm sure. For now we are left with a girl who appears out of a pendant and our lead boy is shocked. Honestly I was too. Best OP and ED along side of Level E for me as well.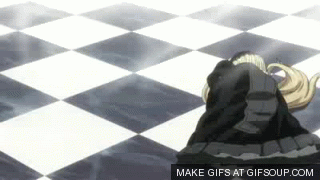 * Freezing was a whole lot of fun honestly. Violence, blood, and boobs. I could do without the boobs and ecchi moments but it still does add to the entertainment of the show. I shall have a lot of fun watching this show this season.
Gosick was a HUGE let down. I was actually expecting to like this one a lot because I do love mysteries but man... I hate the chick already and her male counterpart already shows signs of no spine. No thank you.
Haiyoru! Nyaruani: Remember My Love makes me wonder why they are making more of this. It was bad enough the first time around does it really need another part to it? I just don't get it.
IS: Infinite Stratos is Ladies vs Butlers with a sci-fi mecha twist. I relitivly enjoyed LvB so I actually liked this first episode even though it was painfully cliche. I shall look forward to seeing more of the mecha in this though as the 2 minutes or whatever it was at the beginning of the episode just wasn't enough for me to judge.
Kore Wa Zombie Desu Ka? probably had the most funny first episode of all airing this winter. I am afraid though that they will not be able to keep up with the pace that they have set and it will get stale. I hope I'm wrong but who knows with parody comidies. I do love my magical boy transformation scenes though and this one pleased me greatly. The ED for this show was pretty darn good too. Seeing those nipples was entertaining!
* Level E is probably the show I'm enjoying the most, along side of Fractale. I'm so glad I decided to blog it this winter so keep on the look out for those posts.
Oniichan no Koto Nanka Zenzen Suki Janain Dakara ne AKA I Don't Like You at All, Big Brother uhhhhg. I'm sure everyone has ripped into this one a whole lot already so what's one more bad review of it. I'll keep it brief though so lets just say that when a show makes me cringe in the first 10 seconds it's generally a bad omen.
Puella Magi Madoka Magica AKA Mahou Shoujo Madoka Magika very forgettable for me. I think people are pretty hyped up about this show but honestly it just kind put me to sleep since I wasn't interested in anything that happened. The art sure is pretty though.
Rio Rainbow Gate is lucky, shiny, boobs playing casino based card games. Card dealers battle it out to see who is the luckiest and win gate cards from each other. It's a little silly I must say and there are a lot of useless characters. I don't hate it yet but I really don't see why this got the green light either. I suppose someone out there needs their gambling beauty fetish filled in anime form.
Starry Sky is a strange reverse harem of sorts that is taking forever to get into what the show is suppose to be about. Maybe I just don't get it but I'm gonna blame the 10 minute episodes on this one. I probably would have dropped this show by now if it wasn't for the short episode length honestly. AND I kind do still want to see what is suppose to be going on here.
Wandering Son... Where a boy wants to be a girl and a girl wants to be a boy but shhhhhhhhhhhhhhhhhh it's a secret... oi I didn't enjoy this first episode at all. Took way too long to say what they wanted to say and then it just crawled by at a snails pace. I will say that it is pretty to look at though. Nice and pastel like.
* Wolverine was an interesting start honestly. I really liked the Canadian shout out with beer. Classy as ever. I'm questioning exactly what they are trying to do with this series still but from what I can make out of it, it'll be romance based with some awesome action. I do laugh at how Logan can stop bullets and kick ass at pretty much everything. But he can't beat a sword swung around by an old man. LOL!
In the Season 2 part we oddly only have 2 titles. I find this rare honestly because there's generally at least 4. But it being the winter season and all there is less all around so 2 is a good number here.
Mitsudomoe is still the same old show. We start off this season with a look at the newest Gachi Rangers movie or episode or whatever it was. I'm still not a fan of this show but I will admit that when it does hit a funny mark it is totally hilarious.
Kimi ni Todoke... ahhh... This season doesn't feel like a new one honestly and is more like it just keeps on going from the season one. We got an episode 00 to remind us what happened in the first series then episode 1 aired. This episode was about valentines day chocolates... I hate these episodes with a passion and watching stupid Sawako fuck up was just painful. I can not express how much I raged at her... Now this seems very negative but I actually do like the show... I think it's because it does remind me what it was like as a teenager with a first crush.
Overall: I'm a little sad that nothing totally blew me out of the water but I was given at least 5 maybe 7 shows that I think will please me. Oh yeah I completely forgot about Cardfight!! Vanguard... Lets just say this is WAY too shounen little boy for me... But if it'll be 12 episodes like I've heard I'll be able to sit through it.
GD Star Rating
loading...