Thoughts on Winter Anime After 1 Episode
I'll keep this short and sweet. After all if I really wanted to talk a lot about these shows I'd give them each their own posts 😛
* means I'll be looking forward to these series each week.
* Beelzebub shall be interesting to see where it goes. It tries a little too hard to be funny for my tastes but that's what shounen is all about. I really hope that demon baby gets pants at some point. For some reason seeing that little boys dong so often creeps me out. I do look forward to the fights that this show shall be bringing.
Dragon Crisis will be the second worst episode that I've watched this winter behind the Brother love show. I love dragons and all but I don't generally want them in loli form. I like them as REAL dragons. I feel like someone took a look at Niche from Letter Bee and was like I need to make her better somehow... Oh hey lets make her a dragon and put her into a box! YEAH that'll work!!! -.-
Dream Eater Merry AKA Yumekui Merry I didn't expect this show to interest me in the slightest honestly. It's giving off a Soul Eater vibe that I like though.
* Fractale is a delightful Yokohama Kaidashi Kikou with a plot. We visit a futuristic world that relies a lot on computers to make people happy. We weren't given much to chew on plot wise yet but it'll come in the next episode I'm sure. For now we are left with a girl who appears out of a pendant and our lead boy is shocked. Honestly I was too. Best OP and ED along side of Level E for me as well.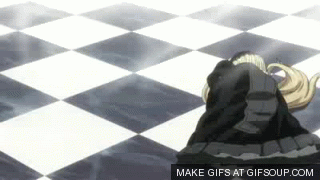 * Freezing was a whole lot of fun honestly. Violence, blood, and boobs. I could do without the boobs and ecchi moments but it still does add to the entertainment of the show. I shall have a lot of fun watching this show this season.
Gosick was a HUGE let down. I was actually expecting to like this one a lot because I do love mysteries but man... I hate the chick already and her male counterpart already shows signs of no spine. No thank you.
Haiyoru! Nyaruani: Remember My Love makes me wonder why they are making more of this. It was bad enough the first time around does it really need another part to it? I just don't get it.
IS: Infinite Stratos is Ladies vs Butlers with a sci-fi mecha twist. I relitivly enjoyed LvB so I actually liked this first episode even though it was painfully cliche. I shall look forward to seeing more of the mecha in this though as the 2 minutes or whatever it was at the beginning of the episode just wasn't enough for me to judge.
Kore Wa Zombie Desu Ka? probably had the most funny first episode of all airing this winter. I am afraid though that they will not be able to keep up with the pace that they have set and it will get stale. I hope I'm wrong but who knows with parody comidies. I do love my magical boy transformation scenes though and this one pleased me greatly. The ED for this show was pretty darn good too. Seeing those nipples was entertaining!
* Level E is probably the show I'm enjoying the most, along side of Fractale. I'm so glad I decided to blog it this winter so keep on the look out for those posts.
Oniichan no Koto Nanka Zenzen Suki Janain Dakara ne AKA I Don't Like You at All, Big Brother uhhhhg. I'm sure everyone has ripped into this one a whole lot already so what's one more bad review of it. I'll keep it brief though so lets just say that when a show makes me cringe in the first 10 seconds it's generally a bad omen.
Puella Magi Madoka Magica AKA Mahou Shoujo Madoka Magika very forgettable for me. I think people are pretty hyped up about this show but honestly it just kind put me to sleep since I wasn't interested in anything that happened. The art sure is pretty though.
Rio Rainbow Gate is lucky, shiny, boobs playing casino based card games. Card dealers battle it out to see who is the luckiest and win gate cards from each other. It's a little silly I must say and there are a lot of useless characters. I don't hate it yet but I really don't see why this got the green light either. I suppose someone out there needs their gambling beauty fetish filled in anime form.
Starry Sky is a strange reverse harem of sorts that is taking forever to get into what the show is suppose to be about. Maybe I just don't get it but I'm gonna blame the 10 minute episodes on this one. I probably would have dropped this show by now if it wasn't for the short episode length honestly. AND I kind do still want to see what is suppose to be going on here.
Wandering Son... Where a boy wants to be a girl and a girl wants to be a boy but shhhhhhhhhhhhhhhhhh it's a secret... oi I didn't enjoy this first episode at all. Took way too long to say what they wanted to say and then it just crawled by at a snails pace. I will say that it is pretty to look at though. Nice and pastel like.
* Wolverine was an interesting start honestly. I really liked the Canadian shout out with beer. Classy as ever. I'm questioning exactly what they are trying to do with this series still but from what I can make out of it, it'll be romance based with some awesome action. I do laugh at how Logan can stop bullets and kick ass at pretty much everything. But he can't beat a sword swung around by an old man. LOL!
In the Season 2 part we oddly only have 2 titles. I find this rare honestly because there's generally at least 4. But it being the winter season and all there is less all around so 2 is a good number here.
Mitsudomoe is still the same old show. We start off this season with a look at the newest Gachi Rangers movie or episode or whatever it was. I'm still not a fan of this show but I will admit that when it does hit a funny mark it is totally hilarious.
Kimi ni Todoke... ahhh... This season doesn't feel like a new one honestly and is more like it just keeps on going from the season one. We got an episode 00 to remind us what happened in the first series then episode 1 aired. This episode was about valentines day chocolates... I hate these episodes with a passion and watching stupid Sawako fuck up was just painful. I can not express how much I raged at her... Now this seems very negative but I actually do like the show... I think it's because it does remind me what it was like as a teenager with a first crush.
Overall: I'm a little sad that nothing totally blew me out of the water but I was given at least 5 maybe 7 shows that I think will please me. Oh yeah I completely forgot about Cardfight!! Vanguard... Lets just say this is WAY too shounen little boy for me... But if it'll be 12 episodes like I've heard I'll be able to sit through it.