It was really hard for me to choose between Samurai 7 and tomorrow's anime on which was "better". Both are actually scored the same but one did it slightly more for me than the other. The Not so Secret Santa Project hasn't had a moment like this before! Joe Animated was skeptical when he choose this anime for me but it totally payed off!
Every year in Kanna village during harvest time, a group of bandits come and basically steal almost all of the rice. Barely leaving enough for the villagers to survive on. To make matters worse, the bandits are becoming more and more demanding as the years go by. The village elder has had enough! They must hire samurai to protect the village. Hiring samurai is expensive though so they must find ones that will work for nothing but rice. Three villagers set out on a journey to find some samurai that will work for them in the capital. But a bigger problem lies waiting in the capital as well.
Samurai 7 feels like combination of Gintama, Last Exile, Samurai Champloo, and Ninja Scroll. Which when you think about it is a weird mix. But it works! It looks most like Last Exile with its dark and grainy tone but that's because GONZO did both shows. This kind of look works very for these kind of shows honestly. They are beautiful but in a very different way that most people expect when viewing anime. Listening to the OP again now I realize that I completely skipped it every time because it was pretty bland for my tastes. The series had a recap at the beginning of every episode too so that didn't help the OP very much either. I had to go and check the files to see if it matched the YouTube one. That's how forgettable it was! The ED though I enjoyed that a lot. I think I really like that instrument that makes that twangy noise or something. The show is dubbed too and decently done might I add. My Santa Project this year has had good luck with dubbing it seems!
In this futuristic yet feudal era after the Great War some samurai have become mechanical, some now wield guns, some hold true to the old ways. This new world that they fight to survive in has changed greatly with the addition of machines. Mecha make their way into this show which is quite odd at first and honestly you never really do get use to them. All the scenes in this show that have the mecha around are just weird. While they are full of action it just seems silly at the same time. I do really appreciate the mecha however even if they gave me a few chuckles during some pretty serious moments. The mecha are probably my only complaint of this show actually. The pacing was a little off for the first half but once the second bit started it made you completely forget all about that.
If there's one thing to choose as being the best of this show it has to be the characters. The 7 samurai themselves: Kambei, the grumpy but wisest samurai, Katsushiro, the young buck, Gorobei, a performer, Shichiroji, a war buddy of Kambei's who now lives a peaceful life at the Firefly Inn, Kikuchiyo, a cyborg samurai, Heihachi, a mechanic, and Kyuzou, a silent but deadly samurai with a score to settle with Kambei. They are an amazingly interesting bunch that grow together greatly throughout the series. There isn't one that I dislike and I don't think I can choose a favourite... Probably Gorobei followed by Shichiroji if I really had to choose. It's amazing that Kikuchiyo as annoying as he was found his way into my heart.
All of the "side" characters are terrific as well. I say side because almost everyone has a huge roll in the show. Kirara, the water priestess, Komachi, her little sister, and Rikichi, a fellow villager, are the three that leave the village to find the samurai. Their bond is quite strong and they too grow together as they work to save their village. Komachi was annoying at times but it's rare for a little sister character not to be hyper and bouncy in these kind of shows especially since she hung out with Kikuchiyo all the time.
Ukyo is the main "villain" of the series depending on your point of view. That's another beautiful thing about this show. No one is out right a good guy or a bad guy. Depending on how you view things of course. Sympathetic characters on the bad side of the coin have always been of great interest to me. He actually reminds me of Dio from Last Exile a great deal.
So yeah I loved this show a great deal. Ended up marathoning it in 2 days. The bf even approved! I would recommend this show to anyone that loves great character development. Helps if they like samurai in a 'futuristic' setting too.
* Story 8/10
* Animation 9/10
* Sound 8/10
* Characters 10/10
* Overall 9/10
GD Star Rating
loading...
Next up for the Not so Secret Santa Project we have ghostlightning! He use to run a blog too but stopped that this year. That's ok though he did what he set out to do! His choice for me was Flag. Yet another anime on my radar that I just hadn't gotten around to. Glad ghosty made me watch it!
Shirasu is a young photographer trying to find her place in the photo taking world. She snaps the picture above and it instantly explodes her career. This picture, and more importantly, that flag becomes a symbol of peace in the war torn country of Uddiyana. Unfortunately the flag gets stolen by extremists and the race is on to get that flag back so a peace treaty can be signed. Who better than Shirasu to document the retrieval of the flag by going along with the SDC, Special Development Command unit tasked in getting the flag back. What makes the SDC so special is the equipment they have being a mecha called HAVWC, High Agility Versatile Weapon Carrier.
This show is definitely not for everyone. The unique way it is done might be too much for some people as it is almost entirely "shot" through the camera lens of Shirasu, or her mentor Akagi's. Much like those movies that are shot through the perspective of a video camera like Cloverfield or The Blair Witch Project. I enjoyed this perspective greatly because no other anime has really done this before. Everything was animated and drawn to look very realistic too which is always a bonus. Especially when it comes to mecha. The HAVWC is one of the coolest mecha's I've ever seen in anime because it realistically could be made in real life! I also really enjoyed that the dubbing in this show wasn't terrible. Felt like a lot of effort was actually put into making the voices good and not ridiculous sounding like most other dubbed anime. The OP was pretty interesting too because of it's simplicity and the music really dragged you into the show.
For such a simplistic story of a group of people going to retrieve something with a civilian tag along, Flag keeps the viewer interested even though the pacing is super slow. Unbearably slow at times actually but we are always tossed just enough tidbits of information about every character, the surrounding area, and the situation their world is in to keep us engaged. Really makes you think about stuff happening now in the world at the moment too. At least it did for me. The SDC crew was a bunch of super fun people that made the anime fun to watch. Seeing Shirasu's enthusiasm was also great! She shows such strength and fearlessness that a lot of regular anime characters lack even though she was pretty scared a lot of the time too. Her mentor Akagi was a great secondary character. His been there done that attitude was interesting to me since he still had that spark for it all after all the years he'd been doing it. Right from episode 1 you know what's going to happen in the end but it's all about the journey to get there!
I'd only suggest this show to people who like a change from the norm when it comes to anime. And to people who really like mecha and political shows of course.
* Story 8/10
* Animation 8/10
* Sound 8/10
* Characters 10/10
* Overall 8/10
GD Star Rating
loading...
Now we start getting into the good stuff for my Not so Secret Santa Project! LOL glothelegend I love you! Inukami was his glorious pick. Hidden gems are always appreciated by me. Especially when they are comedy shows! It's hard to make me constantly laugh at a show and this one did it!
Inukami has a plot hidden in there but that's really not of much interest honestly (at least for me... It's actually a pretty good plot in all honestly). It is seriously is all about the laughs for me! Here's a clip that I'm sure why most people know of this anime.
Ah yes, elephant censoring of the penis! Not just the main characters penis either! All male penis!!! Yes, there's actually a lot of pervertedness in this show but instead of boobs flashing in our faces every 5 seconds it is PENIS! Yeah how could I not like an anime that does this? The main character, Keita, spends a lot of time naked because of his "inukami" Youko. Sending him to random places away from her naked is a punishment after all. These 2 are really something special honestly and have become one of my favourite anime couples ever.
Everyone else in this anime had their place too and weren't just annoying side characters that generally happens with a show that tries to focus on 2 main characters. They contributed greatly to the laughs whether it be the other inukami girls along with their master, Kaoru, or the inspector, Shiro who often approached Keita and Youko for help when it came to strange supernatural things.
This OP is completely fantastic too. The ED isn't as good but it's still quite catchy. Of course this version was pretty fucking awesome. Look was alright but I honestly don't care much about that stuff when the plot and characters are keeping me engaged. Honestly it is hard for me to write more about this show because it's so completely funny and pervy. Anyone who likes to laugh and have perv stuff thrown their way is sure to love it!
I'll leave you with this gif... No Inukami review would be complete without it. Watch this show and LOVE IT LIKE I DID!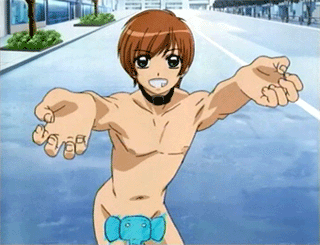 * Story 8/10
* Animation 8/10
* Sound 8/10
* Characters 10/10
* Overall 8/10
GD Star Rating
loading...
Next for the Not so Secret Santa Project we have Weiss Kreuz. All 3 of them! I had been meaning to watch these for a while now but was never really in a bishie kind of mood. ADaysWithoutMe forced me to get into a bishie mood... I kinda don't want to see anymore bishies for a while... Unless it's a bishie that I'm actually interested in.
Ever wanted to watch a show about a bunch of male assassins that run a flower shop? Yeah me either honestly... That's all this show is. Pretty boys killing and being swooned over by high school girls. Of course they all have tragic pasts so there's always an emo moment or 2 (or a lot!) for us to feel sorry for them. If you feel like feeling sorry for them that is. I didn't, so I could have cared less about the main plot of this show.
Can't say I enjoyed any of the looks or music either. The OP was just painful and I made it a mission of mine to make sure I skipped it without having to hear any of it every episode. The second season's OP wasn't any better either honestly... But the animation was slightly better but not by much. I liked the additional main characters they added in S2 too. What was most irritating was the lack of good action. Stuff just happened and we were expected to be like "yeah ok that's awesome!" when it was in fact pure crap on a stick. Some things even repeated which was even more annoying because while I'd expect that with Pokemon and magical girl type shows, I do not want something like that in an action show.
I will admit that their assassin code names taking after cat types (Abyssinian, Bombay, Siberian, and Balinese) was pretty awesome. It's really hard for me not to like anything about cats though. I also really liked the hilarious girl rival assassins. Because if there's any real threat to a bishie group it is a girl group!
It's always weird when each season of anime gets better and better for me. Generally it goes downhill... The first season dragged on and on and ON. Then the ova came... It was interesting enough because there was actually a lot of violence. THERE WAS BLOOD! You know... Stuff you'd expect from a show about assassins!! Then the last season ended up being the best for me honestly. I don't know why either. Maybe it was the promise that I wouldn't have to watch anymore after it! I think the story was pretty good in the last season though and I really liked the way it ended.
Overall I really wouldn't tell anyone to watch this unless they enjoyed trying lots of different anime (like me) and really like pretty boys (like me). Because in the end all this show is is pretty boys doing some stuff. So it's much more fun to ship them with one another than to actually pay attention to what's going on!
* Story 5/10
* Animation 5/10
* Sound 4/10
* Characters 6/10
* Overall 5/10
GD Star Rating
loading...
Moving along to my second anime things have picked up a bit from the first one enjoyment wise.  My Not so Secret Santa Project gives me Grenadier next from the oh so hilarious kevo. Boobie bullets yay!
Our first sight of the lead chick is her naked in a hot spring... Ok so now that I know where this anime is going. Boobs, boobs, boobs, a gun, boobs! Honestly the following is all you really need to know about this anime.
You saw it right? Here's a picture in case you missed it! If you were a gunslinger would you keep your extra bullets in your bosoms? Boobie bullets!
I spent this entire show hoping to see this chicks pantsu honestly. Pantsu that tie up are sooooo cute you just gotta see the whole thing! Just seeing the tassels all the time is such a tease! It only took 5 episodes before this chicks boobs were randomly groped. BUT I finally got a pantsu shot in the same episode as well... A super lame one though.... Super close up crotch shot >.<
Anyway now that I got all the fanservice out of my system... This show... Rushuna is an expert senshi, but she's a complete bimbo honestly. They should have made her an actual strong lead but I guess they needed her to be a dummy so they could bounce her boobs around and feel no guilt or something. She was told by some priestess to go around the world and tell everyone she meets that fighting is bad. So she uses her gun only to disarm people who are fighting and everything generally ends with people snuggling her boobs in complete bliss and throwing away their fighting ways. She teams up with a samurai, Yajiro, who also just wants peace. He has some silly past where he was given the nickname "Tiger of the Rearguard". That's all there is to this anime!
The show is honestly trying to be Trigun but with a girl lead. It feels like Ninja Scroll TV (NOT the movie) with all the terrible music and silly baddies. Then we get an ending similar to Noir... WTF I know. An interesting mix of anime I must say, fanservice asid. (even though the service isn't anything like what we get today. wooo "oldschool" service!). So watch it if you want a grand old laugh or two or three. I shall leave you with some hilarious quotes because dubbed anime is hilarious like that.
"My panties riped and it's hard to move can you get me some new ones?"
"I can't put the pow in power.. Maybe I can put the P in power!"
* Story 5/10
* Animation 5/10
* Sound 5/10
* Characters 5/10
* Overall 5/10
GD Star Rating
loading...