Like every year Spring gave us more anime we knew what to do with! Unlike winter I actually watched everything as it aired. Save for those kiddy shows that I'm not following being Bakugan, Inazuma Eleven, Jewelpet, and Metal Fight Beyblade. Saint Seiya had another season but since I haven't seen any of that franchise to begin with that wasn't watched either. A season 2 of Pretty Rhythm aired but since season 1 isn't even finished being subbed that wasn't watched. When subs appear I'll watch it for sure since I'm enjoying season 1 of it alright.
Some short anime called Koi-ken aired but I haven't even seen raws for this appear. I'm ok with that since it apparently is based on a popular dating sim which I'm so not all about. Space Battleship Yamato 2199 looks interesting but I'd prefer to watch the first stuff for that before jumping into something new. Ozma I didn't watch because I want to do some fun stuff with the Leijiverse stuff eventually.
There was actually very few shows that I didn't enjoy watching this time around. The amount of great shows to choose from was just that good! Even the shitty shows had a few good things to offer so I can't complain about them too much either. I still wish more people would watch Gon...
Best Show of spring is SO hard to choose but I'm going to go with Space Brothers for sure. Honestly if it wasn't for that cat anime I'm blogging it surely would have been #1 of 2012! SPACE!!! Polar Bear Cafe is a super close second for spring too.
Worst Show of spring is Natsuiro Kiseki because while it had an interesting enough idea, cute girls doing stuff just doesn't do it for me in a drama setting.
Here's my big list of Best to Worst shows of spring 2012:
Space Brothers / Uchuu Kyoudai (still airing) 10/10
Polar Bear Cafe / Shirokuma Cafe (still airing) 10/10
Mysterious Girlfriend X / Nazo no Kanojo X 10/10
Fate/Zero 2 10/10
Gon (still airing) 10/10
Jormungand 9/10
Tsuritama 8/10
Kimi to Boku 2 8/10
Sakamichi no Apollon / Kids on the Slope 8/10
Folktales from Japan (still airing) 8/10
Ginga e Kickoff!! (still airing) 8/10
Sengoku Collection 8/10
Zetman 8/10
Phi Brain: Kami no Puzzle 2 7/10
Acchi Kocchi 7/10
Queen's Blade: Rebellion 7/10
Accel World 7/10
Eureka Seven Ao 7/10
Gakkatsu! 7/10
Kuroko's Basketball 7/10
Kore wa Zombie desu ka? 7/10
Haiyore! Nyaruko-san  7/10
Arashi no Yoru ni 7/10
Recorder to Randoseru 2 7/10
Sankarea  6/10
Lupin III ~Mine Fujiko to Iu Onna~  6/10
Saki 2 6/10
Dusk Maiden of Amnesia / Tasogare Otome x Amnesia 6/10
Hiiro no Kakera 6/10
AKB0048 5/10
Medaka Box 5/10
Cardfight!! Vanguard 2 5/10
Shining Hearts: Shiawase no Pan 5/10
Upotte!! 5/10
Kuromajo-san ga Tooru!! 5/10
Yurumates 3D 4/10
Hyou-ka: You Can't Escape 3/10
Rock Lee no Seishun Full-Power Ninden (still airing) 3/10
Shiba Inuko-san 3/10
Natsuiro Kiseki 2/10
Surprise enjoyment: Ginga e Kickoff!! is a children's soccer show that should be watched by everyone! Mysterious Girlfriend X is a romance anime that I had no hopes for going in but ended up being one of the best romantic anime I've ever seen. Acchi Kocchi had great winter episodes which surprised me.
Surprise fail: Medaka Box ended up being quite lacking... I'll have more to say about it in the fall review.
Honorable mentions: Arashi no Yoru ni I'd like to see more of honestly. Lupin III ~Mine Fujiko to Iu Onna BOOBS! AKB0048 is fun but still lacking in awesomeness for me but at least there's a lot of SPACE! Shining Hearts has one of the most hilarious ED's ever! Eureka Seven Ao is finished finished now right?
GD Star Rating
loading...
Day 299/366
Haiyoru! Nyaru-ani: Remember My Love Cute girls as Gods who would have thought!
These uniforms were clearly created to match Nyaruko's hair! Can't say I mind too much since silver grey isn't a super common colour we see.
Overall: Sure!
GD Star Rating
loading...
So yup it's been a while. Why? Partially because I just kind of lost interest in blogging for the winter season because of personal issues I've been having. I also mostly only watched  Detective Conan this month too even though that's not what this post will look like by the end... I completely caught up with Conan and I am most pleased with that because I love it a lot and put it off for far too long. Much like a lot of the other series I finally ended up getting around to as well.
March 1-3
Dragon Slayer,Devil Hunter YohkoOVAs
Lupin Season 1 episodes 1-23
Overall: I found Lupin to be quite fun honestly. The gags got a little old and the OP was completely hilarious let alone the music throughout the series but it was great fun to watch. I enjoyed watching Lupin doing his thing and seeing how he would get out of certain circumstances. I'm going to start watching the movies and specials next followed by season 2 and season 3. I think I've put off The Castle of Cagliostro for long enough!
Kyoran Kazoku Nikki episodes 1-26
Overall: This series starts off wacky and just keeps on going full on right to the end. It was another title on Digiboy's top list that I wanted to watch. He said that I should like it if I watched it in the right mood. Oh how correct he was. If I wasn't in the mood for weird and crazy I probably would have hated this but I was and enjoyed it a great deal. I loved how there were a lot of OP's and ED's. I still can't pick a favourite let alone a favourite character. I'll look forward to watching this again someday.
March 4-6

G-On Riders episodes 1-14
Overall: I think I said enough about this anime here.
Detective Conan episodes 236-293
March 7-9

Area 88 OVA
Area 88 episodes 1-12
Overall: I fell completely in love with this series and actually plan to watch it again soon. I love aviation in anime (thank you Macross Plus) and this certainly had a lot of it. The music in the series was electronic music based which interested me greatly. It made me feel almost like I was watching Macross Plus over again! The lead characters are great and the plot is pretty darn interesting.
AD Police Files OVA
AD Police episodes 1-12
Overall: This was meant to be watched after Bubblegum but I just wanted to watch it first for some reason. The AD Police take care of rouge boomers. Lots of action and very likable characters. The ova is one off stories where the series actually follows a somewhat straight plot.
The Fashion Boy is Cool OVA
George to Gerald no Bouken Movie
Overall: 2 rival mice set off on an epic journey to see who can get the "Dragon of Light" first and be the next leader of the mice world! It's fun and childish and full of adventure. Great to watch with kids.
Durarara Specials
Shounen Sarutobi Sasuke, Shisha no Sho Movies
March 10-13

Detective Conan episodes 294-311
Bubblegum Crisis, Bubblegum Crash OVAs
Overall: Finally getting around to these 2 series that I should have watched years ago but put off for unknown reasons. Maybe so I'd still have awesome stuff to watch now who knows! I greatly enjoyed both of these and wonder just when we'll get boomers in real life.
Ikkitousen episodes 1-13
Overall: I was told I probably wouldn't like this series by a lot of people because of the fanservice involved. THEY ALL WERE VERY WRONG! I simply fell in love with it right from the start. It was hard figuring out who was who in relation to ROTK at first but after a while it got pretty easy. I can see why they would give the girls paper clothing to get ripped off during all the awesome battles because that just adds to the hilarity of it all honestly. I like strange adaptations like this a lot and this one being based on something I really enjoy made it all the more interesting. Seeing some of the characters that are male as chicks = win.
Mokei Senshi Gunpla Builders Beginning G OVA
Overall: This short ova was about building Gundams! I laughed at it at first but really got into it when it got all futuristic with how you could get in this machine and fight with the Gundam you built like a kids card game. It reminded me of Angelic Layer but WAY more awesome because well... I like mecha not dolls.
Mahou no Tenshi Creamy Mami vs Mahou no Princess Minky Momo Short
Overall: Watching this REALLY makes me want to watch both of these series a lot. Older magical girl is oh so awesome.
March 14-19

Detective Conan episodes 312-426, One Piece episode 489, Fairy Tail episode 68, Naruto Shipooden episodes 200-202, Bleach episodes 310-312
Mnemosyne OVA
Overall: I'm glad I finally got around to watching this. I enjoy the idea about this anime but I found that it tried too hard for shock value with all the sex and violence. Generally I'm all for that but they really did try too hard in what could have been a very enjoyable title. Hype disappoints me yet again but I don't regret watching it.
March 20-21

Crying Freeman OVA
Overall: Just lol really. I finally sat down and watched this after only seeing a few parts here and there when I was younger. My bf actually has a VHS tape of it downstairs and just plain out warned me that it was bad. But the thing is... It's not all that bad but it's certainly not meant to be taken seriously. I'll never forget Freeman threatening a womans nipples or how he always had to battle naked for some reason. But if you have a killer tattoo like his why wouldn't you wanna fight naked!?
Adventures of the Polar Cubs, Run White Wolf Movies
Detective Conan episodes 427-469
Mitsudomoe episodes 6-8+special
Overall: Weird that there was only 8 episodes made for a season 2 but ok. It's still pretty hit and miss with me but the points that made me laugh REALLY made me laugh so it was enjoyable when that happened. The special is probably my favourite part of the entire series aside from the barrel episode in season 1. How can I say no to sweet potatoes in the last episode too.
Heartcatch Pretty Cure Movie
Overall: Pretty much the same feeling I got when I watched all the other pretty cure movies. It was a long episode with a decent plot and a lot of cute magical girl action. I think Heartcatch needs another movie though just because it's my favourite Pretty Cure series now.
Love Position, Legend of the Halley Movie
Overall: I really enjoyed this movie a lot. I was interested because this was apparently the first original animated video produced by Tezuka Productions. I loved Hi no Tori so I was pretty sure I'd enjoy this. It has similar themes and the main girl in it is so adorable. I highly recommend people check this one out.
March 22-24
Detective Conan episodes 470-514
Bubblegum Crisis 2040 episodes 1-26
Overall: Watching this re-make of the ova's was rather fun. I still can't decide which I like more but I think it might be this series. I just found it a little more fleshed out and ended well. Not to mention we randomly got to go into SPACE at the end. Instant win!
Black Lagoon OVA episode 4
Overall: Episode 5 now please.
Haiyou Shorts episodes 1-12
Overall: I still don't know why they made more of this...
Hetalia World Series Shorts episodes 1-48
Overall: I didn't find this series as fun as the first season but it had it's moments here and there. I'll have to check out the movie soon.
March 25-31
Detective Conan episodes 515-609
Overall: Finally caught up with this and I gotta say I'm most pleased with how the plot has progressed. This series really will go on forever considering we only get plot episodes here and there. But they come at just the right time when we are itching to get more info and starting to loose interest in the one off case episodes. I can't wait to see where they'll go next.
Silent Mobius Movies 1-2
Overall: Ok wow. These movies sucked SO HARD. They were nothing like I expected honestly and now I'm debating not watching the series that I assume will try to make sense of it all. We all know I'll watch it anyway though... So here's to hoping that it doesn't blow too.
Samurai Shodown Movie
Art of Fighting, Samurai Spirits, Ogre Slayer OVA
Ikkitousen: Dragon Destiny episodes 1-12+Specials
Overall: This one focuses on Liu Bei whom I have always really enjoyed too since he's always the main character in ROTK series for the most part being one of the "good" guys. Seeing him portrayed as a weak bookworm lady though was rather odd. But Guan Yu made up for that being in LOVE with him XD This was the most yuri undertone series of all the Ikkitousen franchise.
Ikkitousen: Great Guardians episodes 1-12+Specials
Overall: This season is my favourite and that's because they focused on Lu Bu for this one. He's probably my favourite ROTK character aside from Zhou Yu.
Ikkitousen: Xtreme Xecutor episodes 1-12+Specials
Overall: Bring on season 5! LOL
April 1
Yu Yu Hakusho episodes 1-29
Overall: Super fun so far. It's like Hunter x Hunter but not as good mixed with some Bleach because of the supernatural effect. Most people find generic shounen fighting anime to be pretty boring but honestly it's pretty great if that's all you are looking for. It also helps that this one has a decent amount of plot but never gets in the way of the fighting. The version I have is pretty low quality but I'm just too lazy to get a better copy right now.
April 2-3
Tide Line Blue episodes 1-13
Overall: I'll have a review coming shortly for this. Worth watching but nothing overly special either. Still really fun though.
Macross Frontier Movie
Overall: I think I enjoyed this a little more than the whole series put together. I like movie compilations for series a lot, if they are good that is. This one was pretty darn good but I'd still recommend that people watch the series first for all those other little goodies that they left out of the movie. Some of it was rushed but they got all the real important stuff in there that anyone should really care about. I can't wait for the next movie!
Detective Conan Movie 13
Overall: By far the best Conan movie that they have made so far simply because it was about the plot and not just a one off story. I highly suggest not watching it unless you are past episode 500 or somewhere along those lines in the series.
Gintama Movie
Overall: So glad to have finally seen this. Sure it's something I have already seen already in the series but the intro and the end were SO worth it for more laughs. I hope they make all of these "serious" arcs into movies eventually!
X-Men episode 1
Overall: KYAAAAAAAA It looks so awesome! Wolverine actually looks like what he's suppose to now! This was the Marvel adaptation I was looking forward to a lot and since the first episode didn't disappoint I'm hoping the rest will be great! The OP gave me goosebumps after I viewed it too!
April 4

Yu Yu Hakusho episodes 30-53
Overall: Looking forward to more fighting and strange monster creatures!
~
Episode Count: 674 + 21 Specials/OVAs + 12 Movies

Manga Count: o
GD Star Rating
loading...
I'll keep this short and sweet. After all if I really wanted to talk a lot about these shows I'd give them each their own posts 😛
* means I'll be looking forward to these series each week.
* Beelzebub shall be interesting to see where it goes. It tries a little too hard to be funny for my tastes but that's what shounen is all about. I really hope that demon baby gets pants at some point. For some reason seeing that little boys dong so often creeps me out. I do look forward to the fights that this show shall be bringing.
Dragon Crisis will be the second worst episode that I've watched this winter behind the Brother love show. I love dragons and all but I don't generally want them in loli form. I like them as REAL dragons. I feel like someone took a look at Niche from Letter Bee and was like I need to make her better somehow... Oh hey lets make her a dragon and put her into a box! YEAH that'll work!!! -.-
Dream Eater Merry AKA Yumekui Merry I didn't expect this show to interest me in the slightest honestly. It's giving off a Soul Eater vibe that I like though.
* Fractale is a delightful Yokohama Kaidashi Kikou with a plot. We visit a futuristic world that relies a lot on computers to make people happy. We weren't given much to chew on plot wise yet but it'll come in the next episode I'm sure. For now we are left with a girl who appears out of a pendant and our lead boy is shocked. Honestly I was too. Best OP and ED along side of Level E for me as well.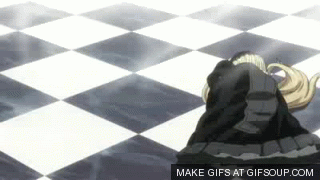 * Freezing was a whole lot of fun honestly. Violence, blood, and boobs. I could do without the boobs and ecchi moments but it still does add to the entertainment of the show. I shall have a lot of fun watching this show this season.
Gosick was a HUGE let down. I was actually expecting to like this one a lot because I do love mysteries but man... I hate the chick already and her male counterpart already shows signs of no spine. No thank you.
Haiyoru! Nyaruani: Remember My Love makes me wonder why they are making more of this. It was bad enough the first time around does it really need another part to it? I just don't get it.
IS: Infinite Stratos is Ladies vs Butlers with a sci-fi mecha twist. I relitivly enjoyed LvB so I actually liked this first episode even though it was painfully cliche. I shall look forward to seeing more of the mecha in this though as the 2 minutes or whatever it was at the beginning of the episode just wasn't enough for me to judge.
Kore Wa Zombie Desu Ka? probably had the most funny first episode of all airing this winter. I am afraid though that they will not be able to keep up with the pace that they have set and it will get stale. I hope I'm wrong but who knows with parody comidies. I do love my magical boy transformation scenes though and this one pleased me greatly. The ED for this show was pretty darn good too. Seeing those nipples was entertaining!
* Level E is probably the show I'm enjoying the most, along side of Fractale. I'm so glad I decided to blog it this winter so keep on the look out for those posts.
Oniichan no Koto Nanka Zenzen Suki Janain Dakara ne AKA I Don't Like You at All, Big Brother uhhhhg. I'm sure everyone has ripped into this one a whole lot already so what's one more bad review of it. I'll keep it brief though so lets just say that when a show makes me cringe in the first 10 seconds it's generally a bad omen.
Puella Magi Madoka Magica AKA Mahou Shoujo Madoka Magika very forgettable for me. I think people are pretty hyped up about this show but honestly it just kind put me to sleep since I wasn't interested in anything that happened. The art sure is pretty though.
Rio Rainbow Gate is lucky, shiny, boobs playing casino based card games. Card dealers battle it out to see who is the luckiest and win gate cards from each other. It's a little silly I must say and there are a lot of useless characters. I don't hate it yet but I really don't see why this got the green light either. I suppose someone out there needs their gambling beauty fetish filled in anime form.
Starry Sky is a strange reverse harem of sorts that is taking forever to get into what the show is suppose to be about. Maybe I just don't get it but I'm gonna blame the 10 minute episodes on this one. I probably would have dropped this show by now if it wasn't for the short episode length honestly. AND I kind do still want to see what is suppose to be going on here.
Wandering Son... Where a boy wants to be a girl and a girl wants to be a boy but shhhhhhhhhhhhhhhhhh it's a secret... oi I didn't enjoy this first episode at all. Took way too long to say what they wanted to say and then it just crawled by at a snails pace. I will say that it is pretty to look at though. Nice and pastel like.
* Wolverine was an interesting start honestly. I really liked the Canadian shout out with beer. Classy as ever. I'm questioning exactly what they are trying to do with this series still but from what I can make out of it, it'll be romance based with some awesome action. I do laugh at how Logan can stop bullets and kick ass at pretty much everything. But he can't beat a sword swung around by an old man. LOL!
In the Season 2 part we oddly only have 2 titles. I find this rare honestly because there's generally at least 4. But it being the winter season and all there is less all around so 2 is a good number here.
Mitsudomoe is still the same old show. We start off this season with a look at the newest Gachi Rangers movie or episode or whatever it was. I'm still not a fan of this show but I will admit that when it does hit a funny mark it is totally hilarious.
Kimi ni Todoke... ahhh... This season doesn't feel like a new one honestly and is more like it just keeps on going from the season one. We got an episode 00 to remind us what happened in the first series then episode 1 aired. This episode was about valentines day chocolates... I hate these episodes with a passion and watching stupid Sawako fuck up was just painful. I can not express how much I raged at her... Now this seems very negative but I actually do like the show... I think it's because it does remind me what it was like as a teenager with a first crush.
Overall: I'm a little sad that nothing totally blew me out of the water but I was given at least 5 maybe 7 shows that I think will please me. Oh yeah I completely forgot about Cardfight!! Vanguard... Lets just say this is WAY too shounen little boy for me... But if it'll be 12 episodes like I've heard I'll be able to sit through it.
GD Star Rating
loading...
I didn't forget about this! I just got so busy for December that there was no time to do one. So This one will be short and simple. The list consists of a lot of fall anime and since I already talked about those in my 2010 Fall Review post there is no point talking further about them here unless I have a special moment I wish to share. So here's some fun pictures from everything I watched over the month of December and a little bit of talking in between! I'll be starting the next Tuesday Tally from January 1st onward. I think this is the best way to start off the new year since it'll be way more fun of keeping track of ALL the anime I have consumed in a whole year by starting fresh!
Week 5 I started off with some Not so Secret Santa picks so Black Heaven, NightWalker, Hitohira, and Shion no Oh were watched.
Melody of Oblivion episodes 9-11 were watched and it's still pretty @[email protected]
I watched some anime with the Skype anime viewing group for the first time and ended up sitting through Amagami SS episode 23, episode 4 of Tamayura and Kuragehime episode 8 I watched once on my own and once with the group. Overall that was a fun first experience but hope to do shows I actually care about in the future and that I haven't viewed already.
The rest was just Fall airing anime that ended up having nothing worthy of a mention.
Week 6 Starts off with more current airing anime but I shall only talk about Bleach from that. WE SAW GINS EYES! That is all...
I also re-started Gundam Seed this week and got through 7 episodes. The first time I watched episode 7 I was pissed at the end of it and this time around I felt even more rage oddly enough!
Yosuga no Sora episode 11 deserves a moment here. Sora, Haru, Sora, Haru, Sora, Haru, Sora, Haru, Sora, Haru... Urgg this show is pure crap.
My last Not so Secret Santa anime, Akagi was started. I got through 12 episodes before friends arrived for the week.
Week 7 I finished off Akagi very slowly but got it done before I posted about it on the designated day.
More anime group blogger watches started happening around Christmas time and what better show to pick than the happy go lucky Gundam 0080! This was a re-watch and honestly I was glad to watch it along side some super Gundam fans out there. I didn't like the OVA the first time around watching it on my own but with this re-watch I certainly appreciate it even more now. Those hamburgers were delicious!
Katanagatari episode 12 I finally got around to and lets just say. BEST ANIME OF 2010! More random fall airing anime episodes were watched.
In order to complete my anime goals for 2010 Shiki needed to be restarted since I had pretty much dropped it at episode 10 for being super lame and boring to no end. Man am I ever glad I picked it back up again. Episodes 11-13 were rather dull but gaining re-interest and when episode 14 hit I was hooked. I ended up watching it none stop all the way to episode 21 and ended up eagerly waiting for the final episode to air on new years eve. The end episode was something...
More weird Melody Of Oblivion was watched and it's still very @[email protected]
Week 8 I decided to finish off straggler anime before I left for new years. So that meant picking up the Spring old K-on II. All I can honestly say is blaaaaaaaaa BUT I did find it hilarious that the bf was interested in it but ONLY because they had actual sponsored instruments in the show and he liked that.
Star Driver and Bakuman were caught up with from episode 9-13 for both. I gotta say I've completely enjoying these 2 series even though the majority of people aren't.
For some reason I watched episodes 1-3 of Haiyoru! Nyaru-ani: Remember My Love(craft-sensei). But then again I know I only watched it because I watched the other 2 minute 9 episodes of Haiyoru! Nyaru-Ani before. These ones are only 4 minutes now so no brain damage occurred.
Starry Sky episode 1... Theres a lot of stars in the sky! The lead boys mom looks like she is his age which is a tad disturbing. But not as disturbing as his SUPER girly looking dad.The art honestly looks like they just took the manga and coloured in the pictures poorly.
Melody of Oblivion was finished off and honestly... I still have no idea what I watched... I didn't hate it though that much is known.
Samurai Girls I started from episode 6 straight onto 12. I wouldn't have enjoyed it so much if I didn't watch it in one scoop like this. The art is definitely something to marvel at though.
Gundam Seed episodes 11-15 were watched and they are all new ones for me now. I don't have much to say about it at this point but I did enjoy the odd kind of recap in episode 14 showing the gundam models as a report.
Winter Sonata I had started back in 2009 but subs were slow so I stalled it. Since I wanted some fun anime to bring with me on my new years trip I figured it was the most logical choice. After all I consider anime I actually want to watch fun anime even if the subject at hand is pretty darn harsh and dramatic. Which Winter Sonata will throw at you many many times. I only watched episode 0 which is basically a long plot episode and then the first episode of the series. I had seen both before but watching them again as a refresher was good for me.
Pretty Cure's magical silhouette sequence is awesome... Just sayin...
December was a busy month but was fun! Lots of anime watched and many more to come!
GD Star Rating
loading...